Dustless Blasting Service from AS UK
18th February 2016
Asbestos Services UK has invested in one of the World's most recognised Quill Falcon systems, Kwikblast 60, a dustless grit blasting product that removes hard to reach encapsulated asbestos debris.
The Quill Falcon 60 Kwikblast System is possibly the most versatile of the Quill Falcon systems as it is powerful, easily portable and blasts for well over an hour before it requires refilling.

The Quill Falcon 60 Kwikblast System is popular with the offshore industry where it is flown across the globe to carry out surface preparation on helipads, completions and oil and gas tubulars, spot repairs for maintenance programmes and coating removal as part of NDT preparation. The Falcon 60 System is also widely used by the shipping industry during voyages to carry out maintenance work as ships transport cargo around the world's waters.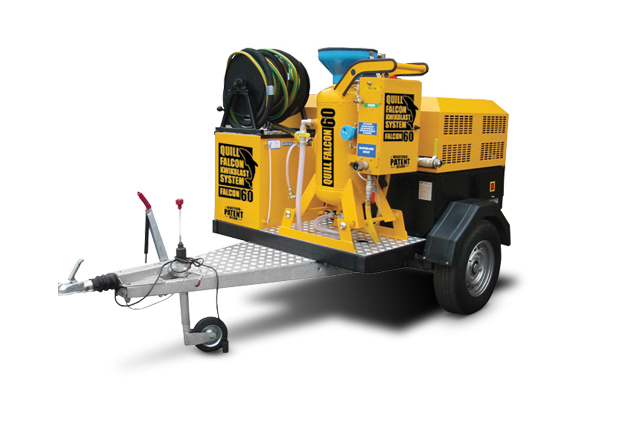 The Quill Falcon can be used in live asbestos enclosures, where small difficult to reach areas, such as boiler rooms, service ducts and undercroft areas, operating to an effective surface finish using a mix of water, dust surfactant and grit to remove various asbestos finishes such as artex from concrete ceilings, concrete in poor condition, asbestos 'limpet' sprayed coating residue from ceilings, steel girders and lead paint, the Quill is also the only machine to effectively remove chewing gum from pavements and paint graffiti.

Dave Coleman, Managing Director of Asbestos Services UK said: "This is a really impressive piece of kit that ultimately ensures that we can remove asbestos from absolutely anywhere."

"We made the investment for one specific job, confident in the knowledge that we could roll this out to other clients. We're now keen to raise awareness of the Quill Falcon and its capabilities to our increasingly diverse customer base."